In the aftermath of a storm that devastated Puerto Rico, Golden Eagles support teammates from the island and rally to a winning season.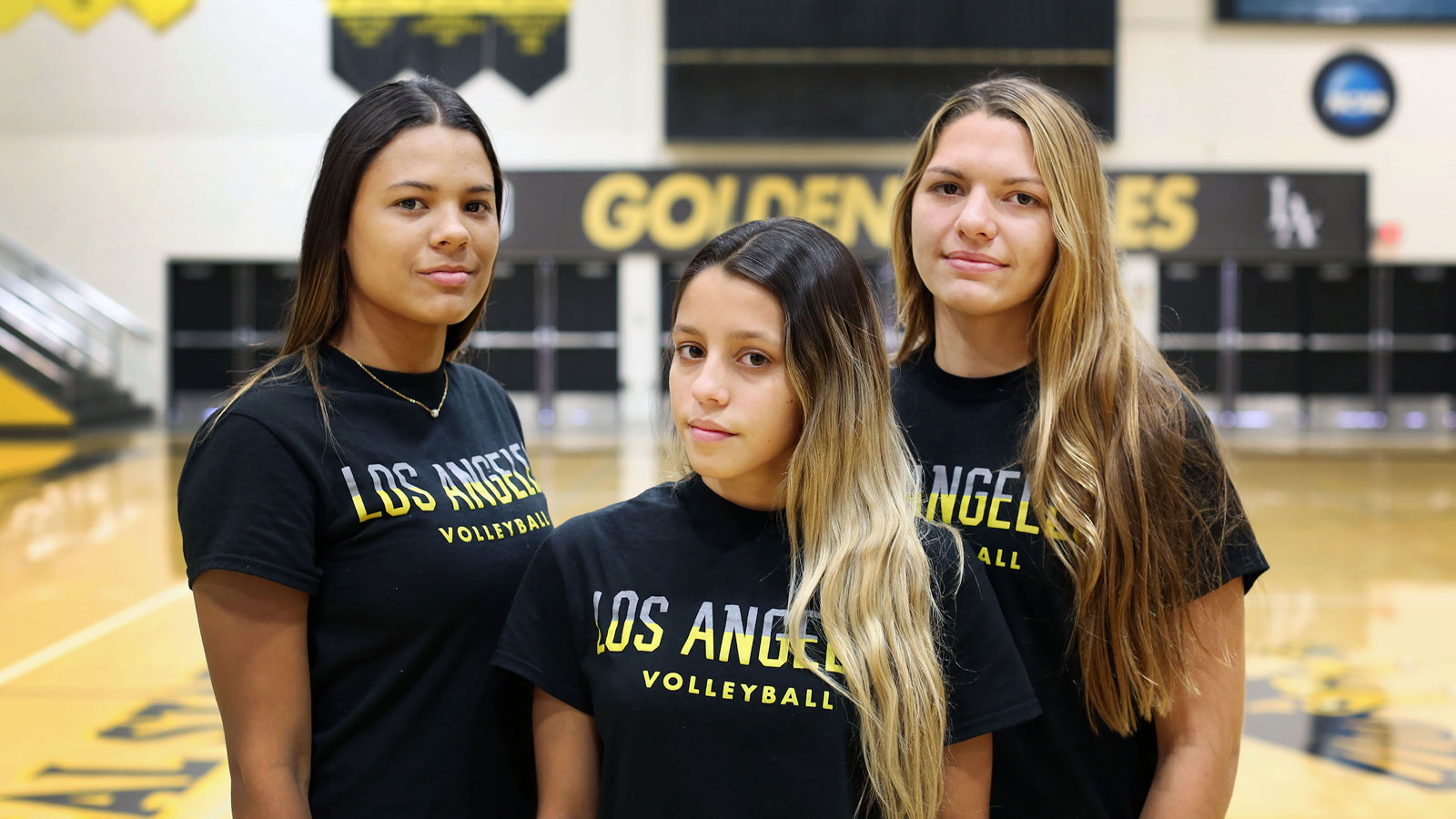 From left: Karla Santos, Jeshmaire Suarez and Alejandra Negron.
T
he California State University, Los Angeles women's volleyball team was on the brink of defeat, but outside hitter Karla Santos remembered why they were playing.
Santos was raised in the seaside city of Manatí in Puerto Rico. Her childhood home, about 30 miles from the capital of San Juan, was destroyed when Hurricane Maria tore across the island in the fall.
She and her teammates dedicated the Sept. 23 match against Cal State Dominguez Hills to Puerto Rico.
"I played for my family and all of Puerto Rico," Santos recalls. "I don't think only of my family; I think of the whole island. I love Puerto Rico."
"To play and win. I think that's the only thing that I can do for my island, to support my island and my family," Suarez said after the game.
Puerto Rican roots run deep on the team. Head coach Juan Figueroa, outside hitter Alejandra Negron and libero Jeshmarie Suarez are all from the island, which is still suffering catastrophic devastation in the wake of one of the most powerful storms to ever strike the U.S. territory.
The Golden Eagles were down two sets to the Toros, and Figueroa gathered his players. They reminded each other that this was not just another game, and they remembered why they were there.
"To play and win. I think that's the only thing that I can do for my island, to support my island and my family," Suarez said after the game.
First-year player Santos ignited the comeback with one of the greatest performances in Golden Eagles volleyball history. She recorded a season-high 30 kills and 26 digs. Cal State LA went on to take three straight sets and win the match. Santos' performance earned her CCAA Student-Athlete of the Week.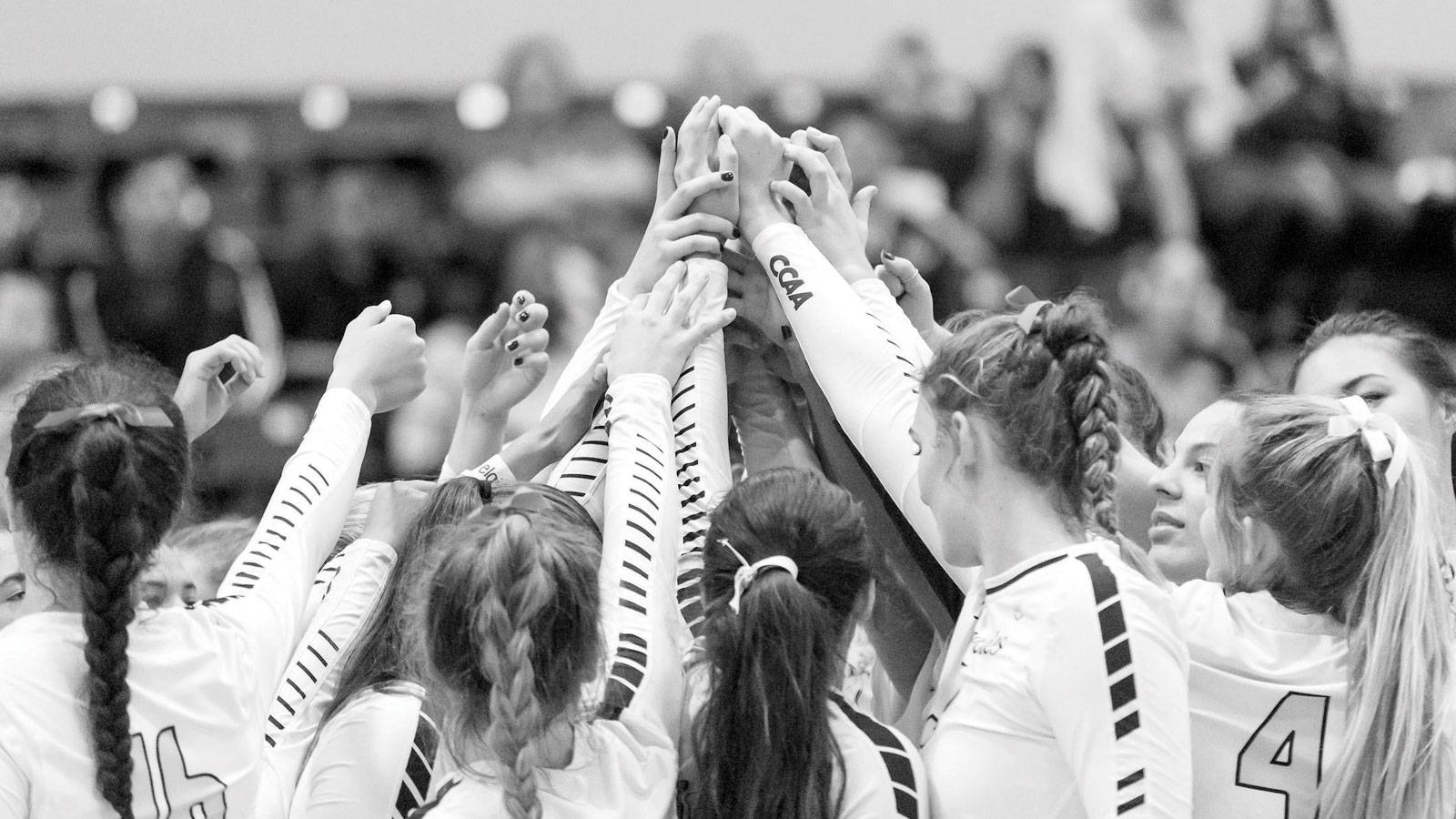 At a time when it was difficult for the players and coach to focus on volleyball, their driving force came from the emotions fueled by the disaster.
Inside the locker room, the players cried and hugged each other.
"I had mixed feelings after the game. I was crying a lot because I was happy," Santos says. "I had my best game here, but I also thought about my family not being able to watch the game."
Negron, who is from Bayamón, which is in a valley about 10 miles from the capital, reflected on the destruction across the island. "It's really bad. All the trees are down and you can see everything," she said in the days following the hurricane.
"I feel so bad because I can't do anything," Negron adds.
"It's brought the team together," Figueroa says. "They're fighting together."
She, Santos and Suarez talked to their families, but the conversations were brief due to the downed power lines and cell towers.
Figueroa, who is from the San Juan suburb of Levittown, said the tragedy brought the team together. Players have rallied around their Puerto Rican teammates as they struggle to cope with the crisis and communicate with their families.
"It's brought the team together," Figueroa says. "They're fighting together."
Cal State LA continued to rally to their 21st consecutive winning season. The Golden Eagles reached the semifinals of the CCAA Championship Tournament as the South Division's No. 4 seed.
Santos finished the regular season second in the conference in kills, with 339, and in points, with 376.5. She led the Golden Eagles in kills, points, service aces and was second in digs. Her outstanding performance this season earned her All-CCAA First Team, CCAA Freshman of the Year and American Volleyball Coaches Association Division II West Region Freshman of the Year honors.
Photos by J. Emilio Flores and Gareth Mackay
President
William A. Covino
Executive Vice President and Chief Operating Officer
Jose A. Gomez
Vice President for University Advancement
Janet S. Dial
Executive Director for Communications and Public Affairs
Robert A. Lopez
Editor
Jocelyn Y. Stewart
Graphic Designers
Nery Orellana
Alcie Villoria
Edward J. Kitaoka
Cory Grabow
Photographers
J. Emilio Flores
Tyrone Washington
Online Magazine
Caroline Lee
Edward J. Kitaoka
Contributors
Sandy Banks
Jillian Beck
Robert J. Lopez
Margie Low
Kaitlan Raglan
LeAnn Zuñiga
Editorial Assistant
Irwin Medina

Forward inquiries and submissions to:
Cal State LA
Office of Communications and Public Affairs 5151 State University Drive.
Los Angeles, CA 90032-8580
Published By
Office of Communications and Public Affairs
Credits
President
William A. Covino
Executive Vice President and Chief Operating Officer
Jose A. Gomez
Vice President for University Advancement
Janet S. Dial
Executive Director for Communications and Public Affairs
Robert J. Lopez
Editor
Jocelyn Y. Stewart
Graphic Designers
Nery Orellana
Alcie Villoria
Edward J. Kitaoka
Cory Grabow
Photographers
J. Emilio Flores
Tyrone Washington
Gareth Mackay
LeAnn Zuniga
Online Magazine
Caroline Lee
Edward J. Kitaoka
Contributors
Jillian Beck
Carly Buechler
Robert J. Lopez
Margie Low
Akanksha Prabhune
Madeline Tondi
Editorial Assistant
Irwin Medina